Steel Door Sets
Specification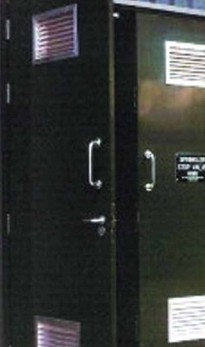 Steel Doorsets
Designed for external and internal applications, are suitable for all general purpose commercial or industrial applications.
Performance
Doorsets are designed and manufactured to ISO 9000 Quality Assurance Standards to suit all general purpose applications.
Door Leaf
Two 18g Galvaneal zinc coated steel skins folded and welded to form a strong and rigid 45mm thick door leaf with a bonded non-fibrous honeycomb core selected for torsional load performance.
Two horizontal channels within the leaf close off the top and bottom edges. An additional deep horizontal channel is installed as standard to take surface mounted closers.
Reinforcing pads are fitted as standard within the leaf to suit hardware options
The bottom edge features a 2.5mm thick steel reinforcing channel welded to both skins.
The hingeing edge is reinforced by 3.4mm thick hinge mounting plates welded with the leaf.
Lock mechanisms are installed within an inner enclosure to facilitate removal for future maintenance or replacement.
Double doors feature a T-section astragal, fitted to one leaf, to ensure positive sealing at the centre.
Frames
Frames are pressed from 16g Galvaneal zinc coated steel to form a double rebated profile.
Profiled headers form a smooth butt joint with the full height vertical posts and include tab and slot locators for positive engagement, plus 2.5mm thick galvanised reinforcing to suit door closers.
Uprights are reinforced with 4.5mm thick steel plates at all hinge and lock points.
Thresholds
Thresholds are available at extra cost, either as a shallow depth extruded aluminium profile or a steel member creating a full four sided frame.
Seals
For optimum weather and thermal performance, a tubular silicone-rubber seal can be bonded into the frame rebate to ensure accurate sealing of the door/frame gap.
Hardware
Door leaves are hung from 1.5 pairs of 3.4mm thick, stainless steel, full ball-bearing hinges, for smooth operation.
Additional hardware includes a range of locks, latches, lever handles, panic equipment, closers.
On double doors, lever-action flush bolts can be installed within the leading edge of the passive door leaf.
All hardware is factory fitted, requiring no additional preparation work on site.
Finish
All doorsets are supplied with one coat of self-etching primer as standard. Factory finishing both high performance low-baked acrylic melamine or specialist systems for coastal/chemical applications are available in any standard BS or RAL colour.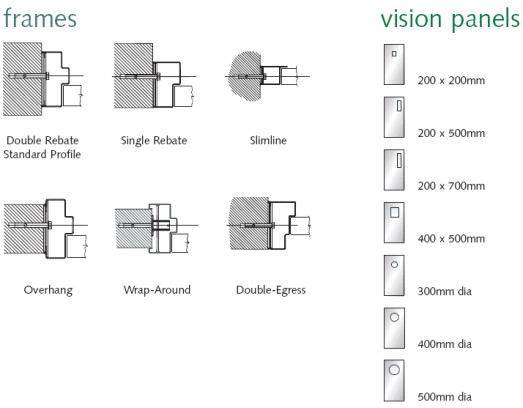 Maintenance
All our products are manufactured to a very high specification. However, planned maintenance can ensure trouble free operation.

Our Service Department can advise on a suitable maintenance agreement.