Repairs & Maintenance
If you have a problem with any type of industrial door or shutter, Doorfix Ring-gard Ltd are ready to assist, offering a 24-hour emergency call-out.
Contract Maintenance:
Maintenance contracts ensure peace of mind and can eliminate the development of costly faults. Regular maintenance calls enable problems to be identified and remedies quickly found. The frequency of visits under a contract agreement largely depends on the amount of operation cycles the door or shutter has to do. A free inspection can be arranged to assess servicing requirements and a detailed quotation will be provided. Regular maintenance not only ensures operating efficiency, it guarantees that fire and security protection is never compromised and the Health & Safety Regulations are not contravened.
Emergency Calls:
Guarantees a quick response to any emergency situation. Whatever the type or make of installation, our teams of experienced maintenance engineers can carry out on-the-spot repairs, or take the necessary steps to ensure the safety of buildings or property.
Upgrading, Conversion and New Doors:
A major part of the repair and service teams' role is to ensure that a door or shutter is functioning to its optimum performance. This can often lead to the recommended upgrading of an older manually-operated installation to power-operation. Doorfix Ring-gard Ltd also supply and install replacement doors with short delivery periods, if required.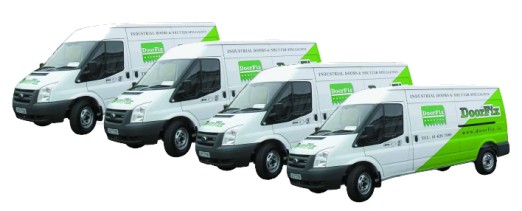 Maintenance
All our products are manufactured to a very high specification. However, planned maintenance can ensure trouble free operation.

Our Service Department can advise on a suitable maintenance agreement.